By just looking at the title, i'm already feeling so hyped up! *jumps*
It's time to race and complete various food challenges all around Malaysia! Amazing Race-style yo! Am ready to nom on all the glorious local food! *beams*
Date : 15th January 2011
Venue : Modesto's
Time : 8am-7pm
Dress code : 'The Maxis Om Nom Nom Race' t-shirts.
(I need a size S) =)
If the thought of nom-ing on local cuisines doesn't excite you, then the awesome prizes will!
First prize: A trip to Hong Kong 3 days 2 nights with 5-star accommodation worth RM10,000! (And 1 free smartphone each)
Second prize : 4 X free smartphones (1 per winning member)
All 60 bloggers will be rewarded with Maxis goodie bags!
Ain't that awesome enough? Excitement almost beyond words!!
So why i would love to be a part of this Maxis Om Nom Nom Race is because;
#1. I LOVE TO EAT!
Yes, i LOVE to eat like really really, i can eat a lot! And i find my blog is slowly turning into a food blog (like this one which people are still googling about) because to me, food is like addictive drugs. And it's like as if i'm 'worshiping' food wth haha. I enjoy good meal like anyone else, but this fetishism of food in me got worst! But of course, i'll make sure i'll burn those calories off after that. Health is important yo! :)
Live to eat? Or eat to live? You decide!
#2. I LOVE MAXIS!
I'm a Maxis user, and i'm proud to be one. What more when Maxis come up with events like this? *winks* On top of that, each of the 15 teams will be equipped with an iPhone 4 (with finder301 and GPS applications installed), a laptop and a Maxis wireless broadband modem! It's all available through Maxis!
Hail to Maxis! :D
Moreover, i'm sporty and adventurous and i believe that my team have the determination to complete this race with flying colours! It's been quite some time since i last joined treasure hunt and this is just the right time! Sounds like a plan! :D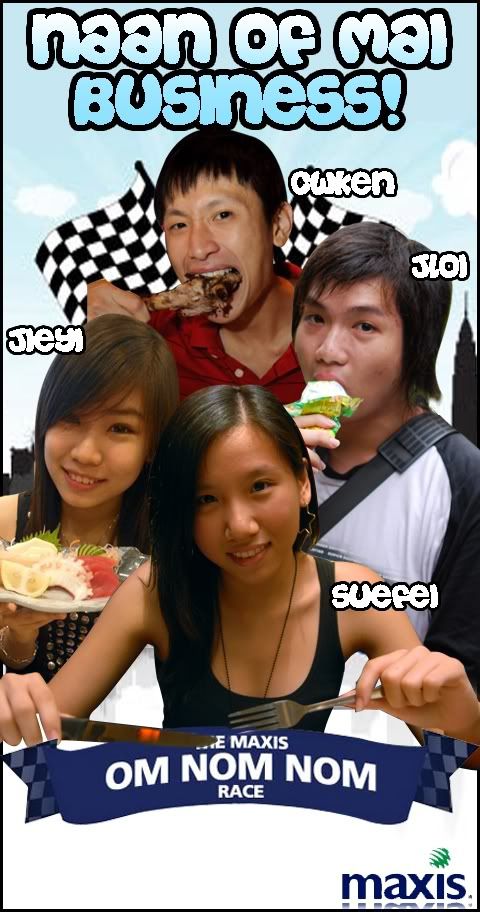 Fellow awesome team members!
P/S: Sign up as Maxis Angel to get first priority on more exciting promotions and contests like this!
Whatcha waiting for? Join the contest here now!
Much love! ;)